Tiêu chuẩn trình bày một bài viết đạt chất lượng
Bài content dài chất lượng
https://instapage.com/blog/landing-page-framework
https://moz.com/blog/the-advanced-guide-to-keyword-clustering
Bài SEO
https://www.dienmayxanh.com/kinh-nghiem-hay/5-luu-y-khi-chon-mua-o-cung-di-dong-ban-can-biet-1120442
YÊU CẦU TRÌNH BÀY BÀI VIẾT
CẤU TRÚC MẠCH LẠC RÕ RÀNG
1…..
ý 1.
ý 2.
gạch đầu dòng
–
–
–
cộng lùi đầu dòng
+
+
+
xuống dòng giữa các ý khác nhau
xuống dòng giữa ví dụ
các hình ảnh add vào phải có tên ảnh
TÔ ĐẬM CÁC HEADLINE VÀ FONT CHỮ TO HƠN
các ý chính phải tô đậm ra font to hơn font bình thường tầm 2 ý
HÌNH ẢNH CHẤT LƯỢNG
rộng tối thiểu 1080
ko bị tối
ko bị vỡ nét
không bị xấu, thiếu tập trung hình ảnh, không có tông
2-3 ảnh 1 bài viết chèn theo phương pháp 1/3 – 2/3
Tóm tắt :
Mạch lạc , rõ ràng chia các phần ra

Dùng gạch đầu dòng, lùi, chia các ý

Dùng hình ảnh chất lượng cao, có điểm nhấn

Xuống dòng phân cấp thông tin rõ ràng
If landing pages didn't exist and you were designing one for the very first time, what landing page elements would you need to make your new creation a success?Let's take look at the anatomy of a landing page, and we'll define the building blocks of a successful online marketing campaign .

There are five must-have core elements on any landing page, which can be broken down further into a more detailed list of building blocks:
Your Unique Selling Proposition (USP)

The main headline
A supporting headline
A reinforcement statement
A closing argument

The hero shot (images/video showing context of use)
The benefits of your offering

A bullet point list summary of benefits
Benefit and features in detail

Social proof (I'll have what she's having)
A single conversion goal — your Call-To-Action (CTA) (with or without a form)
The diagram below represents a sample layout with the five elements placed in locations determined by their hierarchical importance in terms of the story you are telling your visitors. Your specific landing page may vary from this layout, but it's helpful to look at this for reference as we walk through each element.
1. The Unique Selling Proposition (USP)
The starting point of a marketing campaign revolves around your ability to define a point of differentiation. What is it about your product or service that sets it apart from the competition? You need to communicate this in a succinct way on your landing page. Try to break down your offering to its most basic level, to describe the specific benefit your customers will get by choosing your product/service.
A classic example comes from Domino's Pizza: "You get fresh, hot pizza delivered to your door in 30 minutes or less — or it's free."
A well crafted USP sets clear expectations for your customers and allows them to understand why they should care.
The USP can be broken down into four page elements, which collectively tell the story of your offering throughout the landing page:
The main headline: the Domino's example above is a perfect illustration of a page headline.
The supporting headline: Sometimes you will need a secondary headline (typically smaller in size) that provides some clarification about the primary headline. Most commonly, this is used to allow the primary headline to be very short and punchy.
The reinforcement statement
The closing argument
1A. The main headline
Your headline is the very first thing that people will see and read. It's critical that it very clearly describes what a visitor will get from the page (its goal) and that the message match is strong enough to show the visitor that they are in the right place.
1B. The supporting headline
Your headline can only say so much if you want to keep it succinct and easily digestible. The best way to keep your headline short and sweet is to add a supporting headline.
This can be used in two different ways:
As a direct extension of the headline, where it follows the primary headline in such a way that it's like finishing a sentence.
To extend the message by applying an additional persuasive message to support the primary one.
1C. The reinforcement statement
People will scan your page when they are reading it. This makes it critical that any titles you use — such as your main headline and feature/benefit titles — throughout your page stand out to a reader.
There is another page title that you can use to drive home the purpose of your page. This is the reinforcement statement. It sits about halfway down your page, and serves to add a mid-experience message that you want to communicate to your visitors. Essentially it's like a second headline.
Here is an example:
Main headline
The Easiest Way to Build, Publish and Test Landing Pages Without I.T.
Reinforcement statement
Create beautiful landing pages in minutes with no HTML
1D. The closing argument
As your landing page comes to a close, you have one final chance to communicate the benefit of your offering. Similar to the reinforcement statement, it backs up your main value proposition. For a click-through page, it should be coupled with a repeat of your call-to-action.
Note: For a very short page, this isn't always a requirement as your headline will still be visible.
2. The Hero Shot
The adage "a picture is worth a thousand words" is especially true in the short attention span world of the landing page. The hero shot is the visual representation of your offer and can help people to gain a better understanding of what it is or what it looks like. For maximum effect it should show context of use. This means showing rather than telling how it will be used by a customer.
The idea here is to get your customers to empathize and place themselves in a scenario where they are using it. There are many ways in which to achieve this, including:
Photo(s): Consider an example of a collapsible step ladder. A standard white-background photo of the item would work for the hero shot, but to add extra effect you could provide supplementary photos of someone unfolding it, using it to reach somewhere high, and placing it neatly into a small cupboard afterward.
Video: While the camera never lies, video is an even more compelling way to showcase your product. Think of the common Shamwow and Slapchop infocommercials. While cheesy, they impart a sense of need by illustrating direct benefits to everyday life.
Need landing page design inspiration?
Download our FREE Spring 2016 Lookbook, packed with beautiful landing page design examples!
By entering your email you'll receive weekly Unbounce Blog updates and other resources to help you become a marketing genius.
3. The Benefits
Following the USP is a more detailed description of your offer's benefits and features. By crafting an effective headline you gained the attention of your customer, and now you have to provide a little more detail to the offer to answer any questions they may have. Try to focus on answering the question "What will this do for me?", as this will help you to write copy that speaks directly to your customers questions.
3A. Benefit summary bullet points
It's important to strike a balance here and not get into so much detail that your landing page feels like it's full of text. Write a brief one paragraph summary and three to five bullet points for clarity. Come back to this section many times and edit the copy to remove any bloated or unnecessary verbiage.
An example for a phone might be:
Bad (feature based)
Our new battery is twice as powerful as the competition's.
Better (benefit based)
Our new battery means you'll only need to charge your phone every couple of days.
3B. Detailed benefit and feature descriptions
To support your brief benefit statements, you want to extend the bullet point descriptions into a more detailed overview of their purpose and benefit. A good way to approach this is to expand upon the benefits first, and then if needed, add some feature details below.
The important point to remember here is that you need to communicate the benefit of your offering first. Then, and only then, do you start to add features – which are typically directed towards those who require more detail in order to make a decision.
The benefits describe the problem you are solving, and the features describe what it does.
4. Social proof
Social proof is a powerful persuasive concept. Simply put, it's the use of social signals to illustrate that other people have bought/consumed/read/participated in what you are offering. The concept being that you are more likely to convert if you see that others before you have, and were glad they did.
Basecamp does an excellent job of showing social proof on its homepage: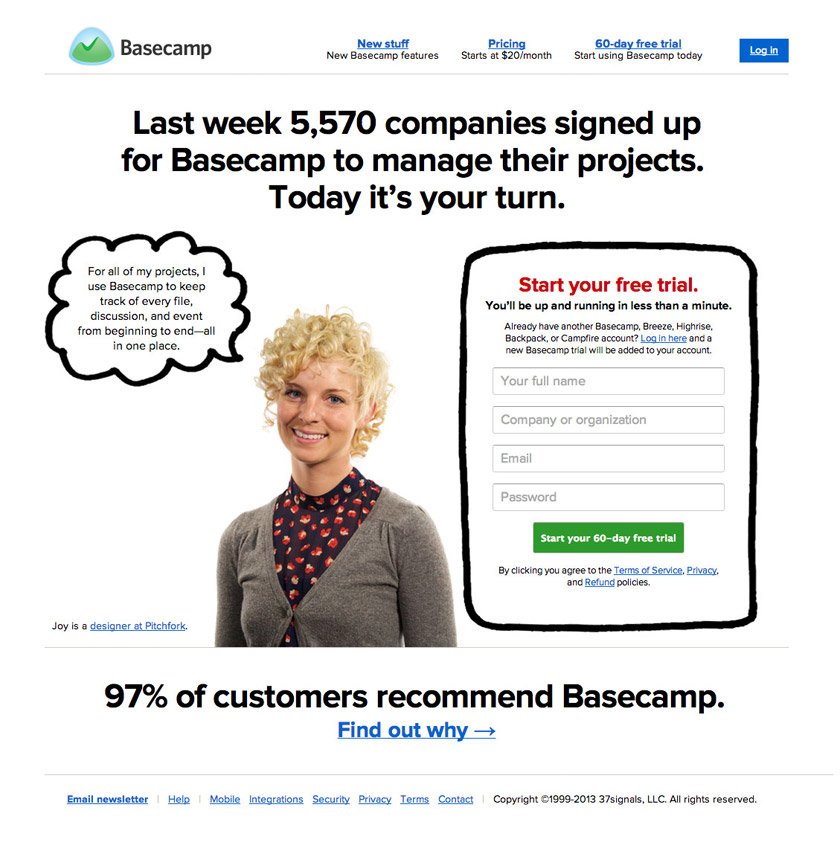 There are two key examples of social proof here:
The headline that points out how popular they are by virtue of the number of signups in a week
The personal testimonial from a customer, including a link to her company for added believability
Other examples of social proof are:
Customer testimonials
Social signals — how well received is your offering on public networks?
A count of how many customers you have
Trust seals to establish security of information
Awards from reputable organizations
Customer reviews — which are very powerful when prospects are comparison shopping
5. The conversion goal
Your conversion goal is a term that describes what the purpose of the page is to you. It's purely a label intended to keep you focused on this page element when designing your page.
To a visitor, this is presented in the form of a Call-To-Action (CTA), which can either be a standalone button on a click-through page, or as part of a lead gen form.
Your CTA is critical to conversions as it's the target of your pages' conversion goal — in other words, it's what you want people to interact with on your landing page. How you design it, where you place it and what it says are all important considerations.
It's common — especially in the B2B marketplace — for the main purpose of your landing page to be lead generation. Usually this will involve asking the visitor for their Name and Email in exchange for a piece of content such as an ebook. If you are requesting data from your customers, keep the form as short as possible and include a privacy statement near the button or email address field.
Poorly written CTAs are the standard CLICK HERE or SUBMIT. A good example would be "Get your $50 spa coupon" which clearly articulates what you will be receiving in exchange for your precious click.
Read about the 15 Steps to the Ultimate Lead Capture Landing Page.
Wrapping Up
By now you should have an understanding of what a landing page needs in order to function. As I mentioned at the start, you can use the 5 elements of a landing page to quickly construct an effective landing page for your marketing campaigns. One particularly good technique for visualizing landing page design potential is to create a paper prototype. Do a quick sketch of the 5 landing page elements on a piece of paper, cut them out and move them around on a new piece of paper. Try to lay it out so that they tell a fluid story with a strong focus on the CTA.
The 8 Most Important Elements of a Landing Page Framework
Landing pages are becoming more commonly used in digital marketing for the simple reason that they establish a great first impression with prospects and have the best chance at turning prospects into leads, and eventually converting those leads into lifelong customers.
But that first impression stage only holds true when landing pages are fully optimized, and creating an optimized page can be challenging if you're new to the process.
What elements should your landing page include? What are some of the best design practicesthat will influence visitors to convert? What is the best landing page framework?
The "best framework" doesn't exist because each offer and business are unique. There are, however, some necessary components that help you build a robust framework and keeps visitors engaged on the page so they can convert.
When you piece it all together, only then can you design an optimized page that will convert time and time again. This article will guide you through some of the key elements that compile a great landing page framework, with supporting examples.
Components of a great landing page framework
1. Compelling headline
You can't afford to skimp on this one because the headline is the first thing visitors see when they land on your page. Writing a compelling headline will help prevent visitors from bouncing immediately and will encourage them to stick around long enough to consider your offer.
No matter what you're promoting, your headline should always possess these three main characteristics:
Clarity
Get right to the point. Clearly explain your product or service so that there is no question or ambiguity about what is being offered.
Relevancy
Fulfill your ad's promise. The ad that sends visitors to your page must have message match so visitors aren't disappointed when they arrive at your page.
Empathy
Feel for the prospect. Address your visitor's problem in an empathic way and be sure to provide a solution to that problem.
There are four primary ways you can create a strong, compelling headline:
"How To" — Start your headline with "How To" and then finish by offering a solution to your visitors problem with your product or service.
Ask a question — Present the question, then the answer in the subheadline and/or main copy.
Use humor — While it may not always be appropriate, being funny can often win people over.
Provide your unique value proposition (UVP) — Provide visitors with a compelling reason to choose your product or service over anyone else and how you set yourself apart from your competition.
Some landing pages also have subheadlines, which helps support and reinforce the claim made in the primary headline.
Here's a great example from Hatchbuck making excellent use of a landing page headline and subheadline. Once you click their Google search ad, you continue to the landing page:
Notice how the brand uses all three characteristics of a compelling headline — clarity, relevancy, and empathy — to capture visitor's attention and keep them on the page:
The ad and page headline match perfectly, both stating that Hatchbuck is a simple alternative to HubSpot.
The headline may not get directly to the point as best it could, but it teases the visitor enough to read the subheadline, which clears up any questions visitors may have about Hatchbuck's services.
Empathy is expressed in both the headline and subheadline. Hatchbuck is speaking directly to small businesses who have experience with HubSpot but don't want to pay a premium for features they don't even use.
2. Effective copy
Good, persuasive copy is crucial because this is one of the primary methods to get your point across and convince prospects to convert — the benefits of your product, your UVP, etc. Among which the following should be considered.
Amount
The amount of copy could make or break the page. Too much and your visitors may feel overwhelmed and leave the page without reading any of it. Too little and they may feel uneasy about whether to pursue your offer. So the amount of copy on your landing page really depends on your offer.
If you're offering an ebook, white paper, or guide you probably don't need very much copy. Just the basics (what's inside the resource, the benefits of downloading, etc.) should be enough to convince visitors to click the CTA button.
Conversely, if your offer is for something more extensive, (e.g. anything that requires payment, like a sales page for copywriting course) then it's a good practice to provide all of the necessary details in your landing page copy. Nobody wants to pay for something they're not entirely sure about, so it's usually better to be safe than sorry.
Writing style
The most noteworthy point here is to make your copy customer-centric so that it speaks directly to your visitors. Using words like "you" and "your" instead of words like "we," "us," and "our" is a great way to show prospects that you're focused on providing a solution to their problem.
Your copy should also convey why your product or service is better than the competition. When doing this, avoid buzzwords like "new and improved," "cutting-edge," and "innovative," as these don't mean as much to the reader. Instead, explain the benefits of your product or service — how it will specifically help them — rather than just the features.
Formatting
Since most online readers only scan web pages, using various formatting techniques, like bullet points, numerals, lists, bold copy, italics, etc. can ensure that the most important bits of information will stand out.
InfusionsoftSalesforce is one of many brands that uses these formatting techniques to provide compelling, persuasive copy to its viewers. Notice the bold print, the customer-centric wording, and the small chunks of information separated by bullet points:
3. Engaging media
Since we know a majority of online users don't like to read web page copy, what better way to get your information across than some engaging media? Three main types of media can be incorporated:
Images
Landing page images shouldn't just look pretty. They should also be attention-grabbing, relevant, and assist in the conversion process. Images on landing pages can be used to accomplish a number of tasks, including:
To showcase products or product features
To introduce employees or highlight customers
To add human appeal and evoke emotion
To tell a story about your brand
To direct attention toward an important element, like a CTA button
Videos
Videos on landing pages are even more effective than images. That's because research shows that:
96% of consumers find videos helpful when making online buying decisions
58% of those consumers consider brands that produce videos more trustworthy than those without
The average visit to a web page containing video lasts almost 6 minutes, while the average visit to a site with just text and images lasts only 43 seconds.
SharpSpring added a short video to its landing page below, telling visitors about the importance of using marketing automation in their marketing strategies, and why SharpSpring is the best solution to accomplish that:
Gifs
Gifs make a good substitute for videos on landing pages. These animated images are also great for explaining offers and are more interactive than images. For example, SaaS companies can show a short demonstration of their dashboard and how a typical customer uses the service.
4. Trust indicators
Potential customers should be able to trust your brand before they make the decision to convert on your offer. That's why incorporating trust indicators to add credibility is essential to your landing page framework.
Here are five common ways to add trust indicators to landing pages:
Statistical evidence
Getting your visitors to convert often relies on providing statistical proof on how your service is the solution to their problem. The proof is best displayed in the headline, subheadline, or copy. When using this method, don't forget to include the source that generated the proof.
Trust badges
Authority badges can include awards from other websites, customer logos, and more. By including authority badges, you're saying to visitors, "Look at all these well-known companies we've successfully helped… We can help you too."
Customer testimonials
A recommendation from a satisfied customer is one of the most powerful trust indicators that exists. Be sure that when you're providing a review or a direct quote from somebody that you provide as much information as possible (full name, business, title, headshot), as this makes the testimonial much more credible to the visitor seeing it.
Third-party seals
Third-party seals let your visitors know that doing business with you is safe, and their information will not be shared or compromised. There are many seals of approval but one study found that the three most recognizable logos are Paypal, Verisign, and McAfee. These also help build trust and persuade visitors to convert. Blue Fountain Media learned that firsthand when they found that just by adding a third party seal, conversions increased by 42%.
Privacy policy
A privacy policy link is one of the very few exit links marketers can include on their landing page (along with terms of service). That's because they help build trust by informing visitors how their information will be shared (if at all). This link is typically added either below the lead capture form or in the footer.
FiveStars does a great job providing trust indicators on the landing page below, as they deliver "proven results" (statistical evidence with cited sources), as well as customer testimonials with several bits of personal information about the person:
5. Lead capture form
Lead capture forms are your ticket for collecting visitors' information, but forms only work well if they're designed properly. To accomplish that, forms must:
Only require essential information from prospects, as to not intimidate them (the amount of form fields depends on the marketing funnel stage your offer sits — the higher the funnel stage, the less information is typically requested, vice versa)
Be properly organized so that it's easy for visitors to complete
Be placed strategically on the page ("above the fold" is no longer a requirement because everyone scrolls)
Zoho's lead capture form below is very short and doesn't request much personal information, which makes it more likely that prospects will create an account:
Another method to designing lead capture forms is the two-step opt-in. This technique allows you to simplify the page by removing the form and only including a CTA button. When visitors click that button, a pop-up box opens with the form. Breaking up the steps like this helps remove some of the intimidation that forms present. Also, only the most interested prospects are shown the form, so you tend to have more success when they have to take this extra step to convert.
6. Strong call-to-action
This landing page element should stand out above all the rest. There should be no confusion as to where prospects need to click to redeem your offer.
Consider the following factors when designing your CTA button:
Position
By placing your CTA button too prematurely on the page, you run the risk of losing conversions. When you place the CTA after you've introduced and explained your offer, it's more likely that visitors will already be convinced to convert. White space can also help with positioning by isolating the button and drawing attention to it.
Plus, there is the F-Pattern and Z-Pattern to consider. Both of these web design techniques can help you influence where visitor's eyes move (while leading them to your CTA button).
Of course, CTA positioning and the patterns are all things you can A/B test.
Size
Don't disguise your CTA by making it too small. Make it obvious what you want visitors to do… convert!
Color
To really make your CTA button "pop," it needs to contrast well with the rest of the page. That doesn't necessarily mean bright colors, either. Consulting the color theory can help you find a hue, tint, shade, and tone that stands out from the rest of your page and draws maximum attention.
Copy
CTA copy can be a deciding factor in winning or losing a conversion. Stay away from boring, vague, and overused copy, like "Submit," "Subscribe," "Sign up," or "Download." Instead, be specific and use personalized, compelling words to increase conversions.
The CTA button copy on this GoToWebinar landing page is action-oriented ("start"), customer-centric ("my"), and uses one of the most convincing words ("free"):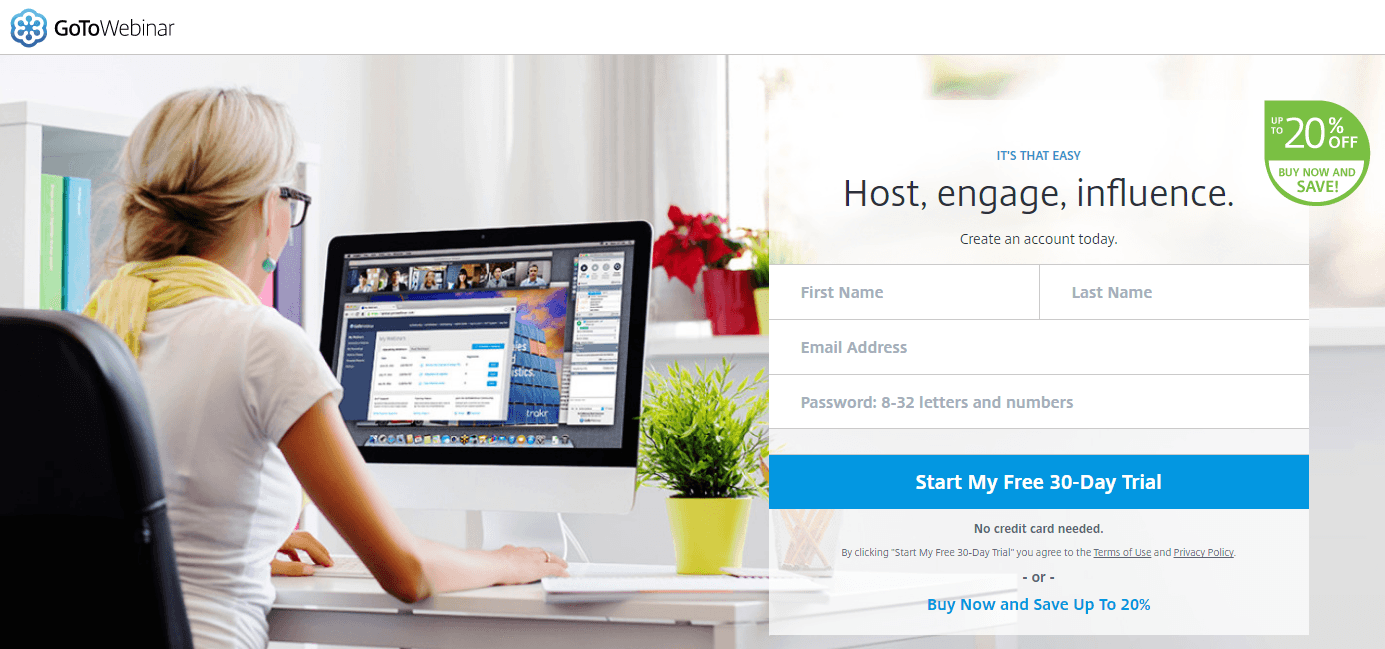 7. No exit links
Landing pages are designed to be hyper-focused pages on a single offer so there shouldn't be any external links (except privacy policy and terms of service, mentioned earlier). By including links to other pages, you're inviting visitors to leave your page without first converting.
This also means no navigation at the top of the page and only including a minimal footer at the bottom.
No navigation
Landing pages don't require a navigation because everything the visitor needs to convert should already be included on the page (all the main points in this article). There shouldn't be a need to jump from page to page; it's either convert on the offer or leave. If you absolutely must include a small navigation, a hamburger menu is best because this design does not distract attention as much as a full navigation can.
Minimalist footer
Your landing page footer should not be like your website footer — no product pages, no social media links, no sitemap. Keep it extremely simple with a privacy policy, terms of service, and copyright information.
IBM's landing page demonstrates all these points:
8. Sufficient white space
White space (aka negative space) is the empty area on your landing page that helps to draw attention to specific elements on your page. It doesn't have to be white per se, as long as it fulfills its purpose. White space is a valuable design technique because it helps create a visual hierarchy and reduce page clutter while improving readability and comprehension.
For example, Catchpoint makes great use of white space drawing maximum attention to the headline, subheadline, and lead capture form:
How will you design your landing page framework?
There is no single best landing page framework. The "best framework" is simply the one that results in the highest conversion rate because various combinations of the landing page elements will result in different outcomes for different businesses. That's why it's important to always A/B test your landing pages to determine which variation is more successful.
To create your own "best" landing page framework, get started with Instapage today. With our designer-friendly platform, you'll enjoy 100% customization and 100+ optimized templates.